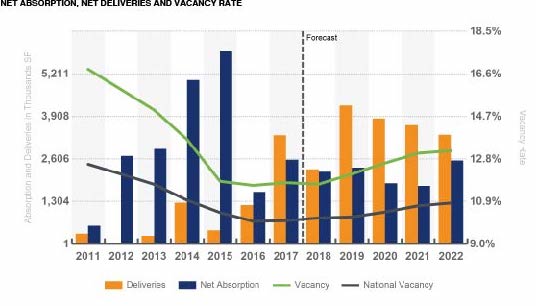 Demand has been strong, and the relative lack of speculative building this cycle has created favorable fundamentals. Vacancies have compressed steadily since 2010, and rents posted three consecutive years of average growth over 6% from 2014-16. These conditions have been occurring in nearly all major submarkets, even if some got a late start. But as deliveries increase over 2017, the vacancy recovery has naturally stalled. Regardless, the Atlanta office market is in a solid position, in part because of competitive advantages compared to major metros in the US. Office rents in Atlanta are about 15% lower than in Chicago, 40% less than in Los Angeles, and 60% below New York rates. The general cost of living in Atlanta is also less for workers compared with the average among the top 12 U.S. metros, and such affordability will help fuel late-cycle gains in white-collar job growth.
Demand is diversifying across industries and submarkets. While Buckhead and Midtown will always attract big tenants, such as NCR's new Midtown headquarters, many of the largest leases signed in Atlanta over the past several years have involved large national companies in submarkets outside the core. Most notably, the Cumberland/Galleria Submarket, initially a laggard in the recovery, has recently experienced a surge in leasing. Comcast inked a deal for 260,000 SF in the SunTrust Park development to consolidate some of its Atlanta area offices and add an innovation center. While HD Supply signed a lease for 222,000 SF in a build-to-suit just down the road that will accommodate its HQ expansion in Cumberland/Galleria, which is expected to create hundreds of additional jobs. State Farm has been moving into its new campus in Central Perimeter, and while the locations and industry types have been varied, one theme remains consistent: Quality product is winning out. New and recently renovated buildings continue to capture a large share of major leases.
Large deals in Atlanta have varied by industry, but tech and IT leasing are accelerating absorption in
multiple nodes. Midtown has been the big winner in recent quarters. Among large leases executed over the past two years, Midtown has captured much of the space filled by tech-leaning companies or divisions across the metro. NCR (consumer transaction technologies) will relocate thousands of employees from Gwinnett County to its Midtown build-to-suit, and Kaiser Permanente has announced that it will hire 900 IT workers in Midtown by 2019. Other IT operations of Fortune 500 companies that recently announced a move to Midtown include Honeywell, Anthem, and GE. Motivations cited for such moves include proximity to Georgia Tech and increasing the companies' appeal to a young, tech-oriented workforce.